This musical makes it feel like there'll be no worries for the rest of your days, truly one of my favourite musicals, so I was thrilled that I managed to get tickets to the 20th Anniversary Gala on Saturday the 19th of October. It was magical! Every member of the audience was dressed up in their best dresses/suits as it was such a special night; it was truly unforgettable and a night I won't ever forget.
Everyone knows the story of the Lion King, It's a beloved Disney film, which has recently been made into a live-action film to bring a new version to a new generation. Lion King has always been one of my favourite Disney films and I am so glad the musical does it justice. I first saw the musical in 2017 for my 18th birthday and remembered loving it. I am so happy that I enjoyed it just as much this time as well! Not going to lie, I teared up during the Circle of Life!
First up you have Shaun Escoffery who played the king of Pride Rock and Simba's dad Mufasa. Shaun's performance really reminded me of James Earl Jones' performance in the movies, he was regal and really embodied the spirit of Mufasa, which made my childhood self very happy! I adored his father/son bond with John who was on for Young Simba at that performance. I wish we could have gotten more! Shaun slayed it singing He Lives In You which was one of my favourites from the show! I really liked Shaun's portrayal of Mufasa and would have loved to have more of his Mufasa!
Moving onto Mufasa's evil brother Scar played by George Asprey. George's Scar was menacing and villainous which are obviously Scar's main traits but they really shone through with George. I thought he was as much a Scar as Shaun was a Mufasa. I really enjoyed his solo – Be Prepared. To be honest it is a song that I normally skip if I'm listening to the soundtrack but I have to admit I LOVE seeing it live; it's a really great experience and is visually stunning yet sinister. I really enjoyed the tension that he brought to all of his scenes but especially his scenes with Shaun and Nick (Older Simba), he was really giving off a vibe of you don't know what he was going to do next. Whilst Scar doesn't really have friends, I did enjoy his scenes and twisted friendship with the Hyenas. Overall really enjoyed George's take on the role!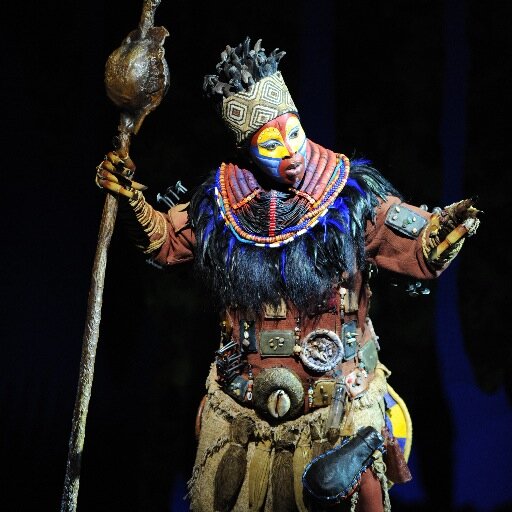 Next, we have Gugwana Dlamini who plays Rafiki. I hardly cry at musicals but when I heard Gugwana sing the Circle of Life, I definitely had tears in my eyes. In the musical, I think of Rafiki as the heart of the Lion King and Gugwana's portrayal was no different! I loved every scene that she was in, especially the song He Lives In You during the second act, it's a song that I love anyway but hearing it live was amazing! It gave me goosebumps! Whilst being a serious character most of the time she definitely had her funny moments which made me laugh! I really enjoyed Gugwana's Rafiki!
Following that, we have Mufasa's advisor Zazu, played by Gary Jordan. Zazu is one of the comedic characters in the show which made me laugh, his jokes were often said rather dryly as well which made them better. I thought he and the Simba's worked really well in scenes together and his relationship with Mufasa was portrayed exactly like it is during the films! Same with his scenes with George's Scar which in the musical we got to see more of which I enjoyed. Gary's Zazu makes me wish that we could get more Zazu in the films!
Next, we have the duo of Jamie McGregor who played Timon and Mark Roper who played Pumba. I loved this duo, they were such great comedic actors and worked so well together. You meet them after a rather sad scene and they just bring happiness and light in a feel-good song – Hakuna Matata. One of my favourites from the movie, they sang it perfectly. Everyone in the audience was loving it. They not only had great chemistry with each other they also had great chemistry with both of the Simbas. I would love to have a spin-off with them going on adventures!
From one set of sidekicks to another! Next, we have Melone M'kenzy as Shenzi, David Blake as Banzai and Barnaby Thompson as Ed – Scars Hyena friends. I loved this trio together, like Jamie ane Mark they worked so well together. With the musical, you get more of an insight into the hyenas instead of them just being background characters. I enjoyed their song, Chow Down and all the different personalities that shone through. They were as menacing as George's scar, so in the scenes that they shared together were extra evil, especially the Be Prepared scene.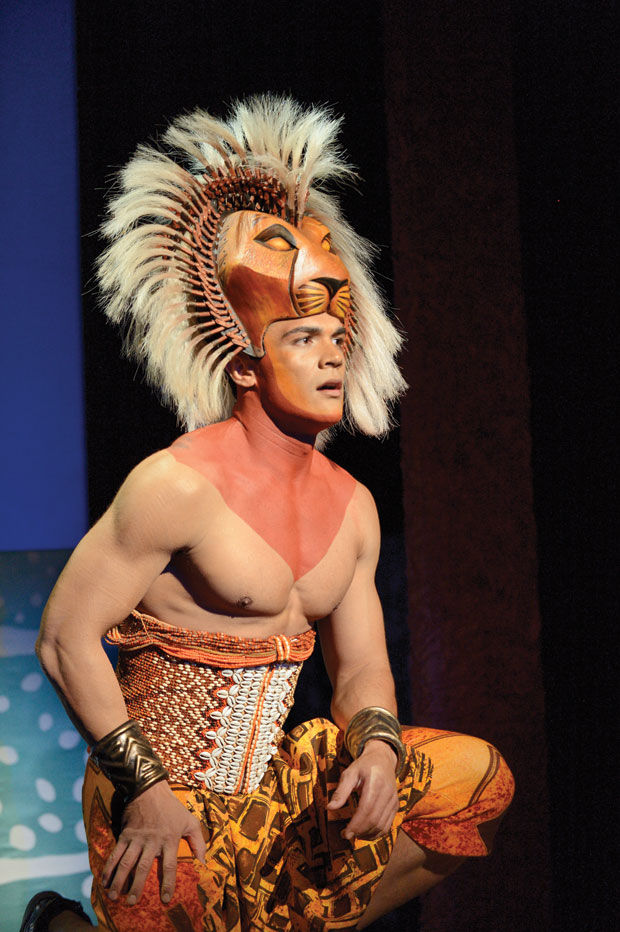 Moving onto Nick Aofa as Adult Simba, truly one of my favourite portrayals of the night. He just WAS Simba! He has such a distinctive but amazing voice which shone in his big solo song in act 2 called Endless Night, it wasn't a song I was overly familiar with but wow! He sang it gorgeously! I loved his energy from the moment that we saw him swap with John and swing in during Hakuna Matata. He also had great chemistry with Janique Charles who plays adult Nala in the show. I really enjoyed their rendition of Can You Feel The Love Tonight, I thought their voices blended together perfectly. Overall I really enjoyed Nick as Simba and thought his portrayal was perfect.
You can't have a Simba without a Nala and Janique was an INCREDIBLE Nala! She had gorgeous vocals which were highlighted in her solo song during act 2, Shadowland. I had heard Janique sing Shadowland earlier this year at Magic at the Musicals at the Royal Albert Hall but it was so much more magical when you see it within the actual show. I have definitely listened to it since and has become a favourite song from the musical. I really enjoyed her scenes with Nick as mentioned above, they just worked so well together. Janique was a feisty Nala when she needed to, especially in scenes with George/Scar. Thought overall she was an excellent Nala!
I have to mention John and Avive who were on for young Simba and Nala. I loved their version of I Just Can't Wait To Be King which is my personal favourite song from the soundtrack and they sang it perfectly. They also had a great friendship which radiated off the both of them which was really nice to see. I also thought John had great relationships with Shaun, Jamie and Mark. Both of them will be ones to look out for in the future!
Overall I adored this musical, I forgot how much I loved it as well which made watching it again even better! If you get the chance to see it, whether that be the tour or in London, do it! It is an incredible musical! You won't be disappointed!

It was a very special night – getting to walk the red carpet was an experience I'll never forget!
If you like the sound of this musical and would like to book tickets you can book them below!
Lion King Tickets sold here!
If you want to buy a recording of the show to listen to you can do so here;

(As an Amazon Associate I earn from qualifying purchases)