What a 20th Birthday weekend I had! After seeing Phantom on Saturday I was lucky enough to go and see Ben Forsters first solo show at the Theatre Royal in the West End!
Let's dive into that magical show!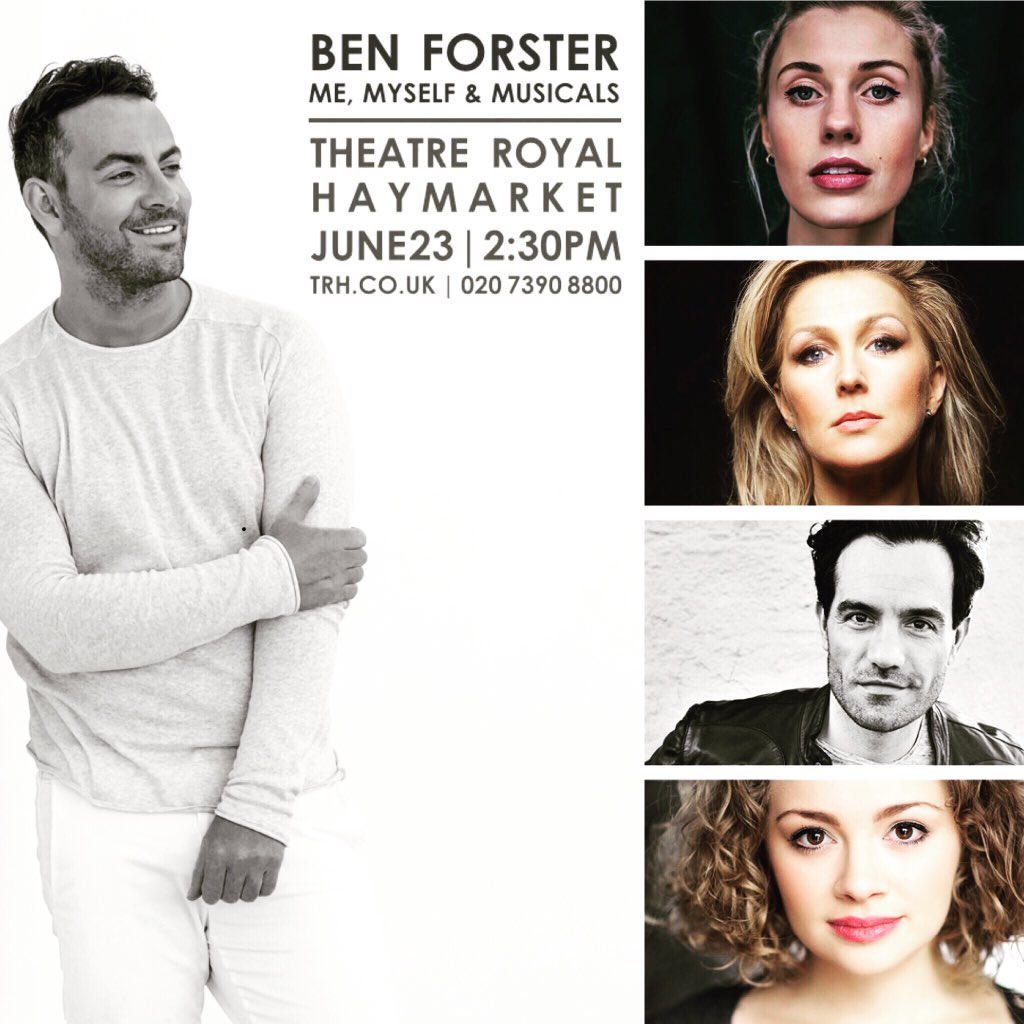 Wow! One way too describe this magical show! Full of West End Stars singing all of the well known songs! I feel so lucky that I was able to go to this event!!
First up we HAVE to talk about the man himself Ben Forster! WOW, this man has some serious vocals, like SERIOUS vocals! I'm probably in the small majority who didn't know much about Ben apart from his work in Phantom of the Opera from 2016-17, so I didn't know overly what to expect from the show but W O W I was amazed! I had seen Hugh Jackman a few weeks prior to this event and honestly? Ben's concert was so much better!
For those who don't know much about Ben, he shot to musical theatre fame when he appeared on the ITV show 'Superstar' which was a talent contest to find the role of Jesus for the Andrew Llyod Webber musical Jesus Christ Superstar which he went on to win, with Jesus Christ Superstar he went on tour all around the UK to perform the musical in big Arenas. He then became even more of a big name when Universal filmed and Produced a film of one of their performances and broadcasted it in cinemas around the world. Bens other credits include Brad in the Rocky Horror Picture Show, Magaldi in Evita, The Phantom in Phantom of the Opera and originating the role of Buddy the Elf in Elf the musical!
To say his concert was magical is an understatement, as I said in my little intro it was filled with all the big songs from musicals such as Man La Mancha, Rocky Horror, Phantom, Rent and Jesus Christ Superstar. As I said above I didn't know what to expect but at the interval, I was amazed and then even more amazed after it had finished, there is something about Ben that just makes you like him, he is for such a big West End name so humble and so nice! Unlike some of the big artists who do concerts every night and big tours where they likely have some script to say day to day about how thankful they are for you all being there, you could tell that Ben was actually thankful that you were all there supporting him. I may not have known much about Ben before his solo show but I can definitely say he has a new fan in me! I wish I could go back to this magnificent concert again!
But Ben wasn't alone for this concert! He had some of his West End friends! Including Mazz Murray who I had previously seen as Mama Morton in Chicago in August of 2018 who sang A Kind of Magic. Followed by Adrian Hansel from Starlight Express who Ben sang the song I Am Starlight with. Both Mazz and Adrian were both lovely additions to the concert!
In the second act, Ben brought out his Christine from his Phantom years, Celinde Schoenmaker! Who as well as being a former Christine has been a former Fantine in Les Miserables, she also played the role of Jenny Lind in Barnum during its 3 month run at the Menier Chocolate Factory. Celinde's voice is HEAVENLY! Her and Ben sang the Title song from POTO and they sang it with ease! They were incredible together!
The next guest was the INCREDIBLE Ramin Karimloo! That's right! Ramin Karimloo! If you're a big Les Mis or POTO fan that name will mean something to you but if not let me explain, Ramin is most well known for his roles in those two musicals, in Les Mis, he has played 3 main roles being Jean ValJean, Enjolras and Marius in the West End, he appeared in the 25th Anniversary as Enjolras and then later reprised the role of Jean ValJean on Broadway, and then in Karimloo has played Raoul but is probably more known for playing the Phantom in Phantom of the Opera and then went on to reprise the role in Phantom's sequel Love Never Dies before reprising the role once again in the 25th Anniversary Performance of Phantom alongside Sierra Boggess. So safe to say one of the reasons I booked was because of Ramin was going to be performing! Goosebumps! I love Ramin a lot so it was amazing to see him live! He and Ben sang Bring Him Home from Les Mis which was AMAZING, my goosebumps had goosebumps! These two together were amazing!
Now for the BIG news!!
Not far into the second act, Ben brought out Ramin, Celinde and Carrie Hope Fletcher (Known most for Les Miserables and Heathers), who sang some lovely reimaginations of songs such as I Dreamed A Dream from Les Miserables as well as an incredible performance of Shallow from the recent remake of the musical A Star Is Born, their vocals blend so well together!! But that wasn't it! Oh no! After singing together they had a big announcement to make!
They're forming a Supergroup!!!!
That's right! Ben Forster, Ramin Karimloo, Celinde Schoenmaker and Carrie Hope Fletcher are forming a group!! Those incredible West End Stars singing together in one group! The group itself is called The Cardinals, whilst they haven't announced any dates yet, they have created an Instagram page so make sure you're following them if you want to stay updated!! @ thecardinalsmusicoffical
I CANNOT wait to see more of them!!
Overall this concert was the PERFECT way to end my 20th birthday weekend! It was INCREDIBLY magical and I am SO happy I was able to go to such a wonderful event!